Seafood Market Night SERI (Auction Sale) Guided Tour
Seafood Market Night SERI (Auction Sale) Guided Tour
This tour is limited to the bottom trawling season, from September to June the following year, when assorted fish are gathered at the market from ports all over Ishikawa. The exuberant voices of the auctioneers as they sell an abundant array of marine products will definitely grab your attention! And while you're there, have a bite of fresh seafood at the neighboring restaurant.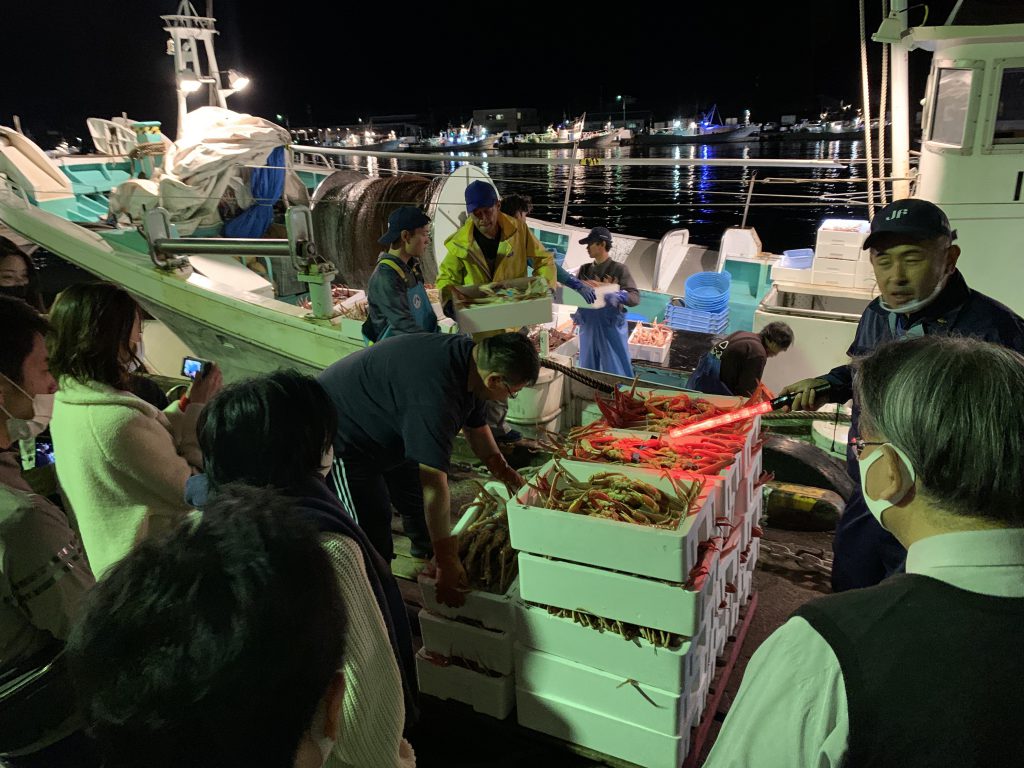 Date of the Event
Every Wednesday and Friday from September to June.
Opening hours of the event
18:00~20:30
Experience content
1.Talk by a Fish Meister
2.Tour of the market facilities
  (※Note: Low-temperature refrigerators may not be accessible during operation.)
3.Seafood Market Night SERI (Auction Sale) Guided
4.Enjoy the seafood from Ishikawa at the adjacent restaurant.
Target audience
Elementary school students and above (for residents of Ishikawa prefecture)
Fees
Price per person is 2,500 yen (tax included).
*Includes the cost of meals at the adjacent restaurant.
Application period
Until 3 days before the event date.
Meeting place

Muryoji Wo 51, Kanazawa City, Ishikawa Prefecture 920-0332

Remarks

・Reservation system with a limit of approximately 10 people on a first-come-first-served basis.

・Please note that in the event that the auction is cancelled due to bad weather or other reasons, the tour may be cancelled. We will contact you by 6:00 pm the day before in such cases.

Inquiry & Venue
Kanazawa Seafood Market, Ishikawa Prefecture Fisheries Cooperative Associations


Muryoji Wo 51, Kanazawa City, Ishikawa Prefecture 920-0332


kz.seri-tour@jfishikawa-seritour.com
Access

coming by car:
 about 15 minutes from Kanazawa Nishi IC or about 20 minutes from Kanazawa Higashi IC on the Hokuriku Expressway.

If coming by bus:
Take the bus bound for "Kanazawa Port Cruise Terminal" from bus stop No. 6 at the west exit of Kanazawa Station. Get off at "Kanazawa Port Cruise Terminal" and walk for about 5 minutes.
Take bus No. 63 bound for "Ono Port" from Nakabashi bus stop. Get off at "Katsuramachi" and walk for about 5 minutes."
【How to make a reservation】
Reservations are accepted on a first-come, first-served basis for up to 10 people. Please note that we do not accept reservations by phone. When your reservation is complete, you will receive a confirmation email to the contact information you provided. To receive emails from the reservation system, please set your domain to receive emails from
noreply@coubic.com
.
【Cancellation Policy】
If you wish to cancel your reservation, please follow the procedures specified in the email sent when your reservation is completed.

Cancellation is possible until 18:00, 3 days before the tour date.

For cancellations made after the deadline, the following cancellation fees will be charged:

2 days before the tour date: Free
The day before the tour date: 50% of the participation fee
On the tour day: 100% of the participation fee.
【Participation in the Tour】
In case the auction is not held due to bad weather or other reasons, we may cancel the tour. If so, we will inform you of the cancellation by the day before.

Please note that elementary school students should participate with a guardian.

As there is seawater flowing in the market, there is a possibility that your feet may get wet. Please wear clothes that can get wet.

If you come by car, please use the Ikiki Fish Market parking lot. Please note that we are not responsible for any accidents or thefts that may occur while parked.

The tour may be introduced on our website, reservation site, and other promotional materials. If you do not wish to be introduced, please inform us.
【COVID-19 Measures】
As a measure against COVID-19, we are taking the following precautions and appreciate your understanding and cooperation.

We kindly ask customers participating in the tour to wear a mask.

We conduct temperature checks before the tour begins. Customers with a temperature of 37.5 degrees Celsius or higher will not be allowed to participate.

Please follow the instructions of the guide for visiting areas and routes to prevent crowded situations.